Dropshipping Ecosystem are Bullied by Funded Startups?
If you ever plan to do dropshipping, you must know the ecosystem we are in. This applies not just for Dropshipping, but you should understand the ecosystem of any business you are starting.
The ecosystem is about the people, companies, and relevant players in the respective industry. In dropshipping, this ecosystem includes the dropshipping marketplaces like Baapstore, individual dropshipping vendors, resellers like our clients, ecommerce marketplaces like Amazon, website development platforms like Shopify or Woocommerce, Shipping companies like Delhivery, Courier package companies and also the so called reseller marketplaces like Meesho and Shopsy.
While the entire dropshipping system has organically developed in India where thousands of online sellers are making lacs of monthly income through dropshipping model, few startups understood this and are bullying the ecosystem. While they may leave the frame shortly, as someone who's researching about dropshipping, you should understand it.
This blog is about two well funded startup bullies - Meesho and Shopsy:
Well, why do we call them bullies? are we scared of their existence? nope, we are least worried about that. But the thing is these kind of companies know that lacs of people are looking to start their Dropshipping business currently and using them temporarily till their goal is achieved:

For example:

Assume this situation, Shopsy is coming to you and says 'hey, I can provide you products for dropshipping, I will also take care of shipping and will ship orders on your name only.. you just need to add your own profit and sell it to your customers'.
Now they repeatedly say this in television advertisements, social media posts, youtube ads, etc., it makes them sound like a good business for you, which actually is.
But the problem is, as soon as they understood that you don't have new customers to refer
anymore
, they ditch you, burning the same bridge which helped them onboard new customers- your customers. Now you are left feeling betrayed.
This is unhealthy practice for any business, which is why we call them bullies.
Let's give you a couple of real proofs where these companies ditched their own resellers:

1. Meesho ditched their own resellers already. There are some cases where resellers don't see the reselling options at all and in other cases, resellers see that the options are hidden under multiple fields and not easy to find those.

See the below screenshots.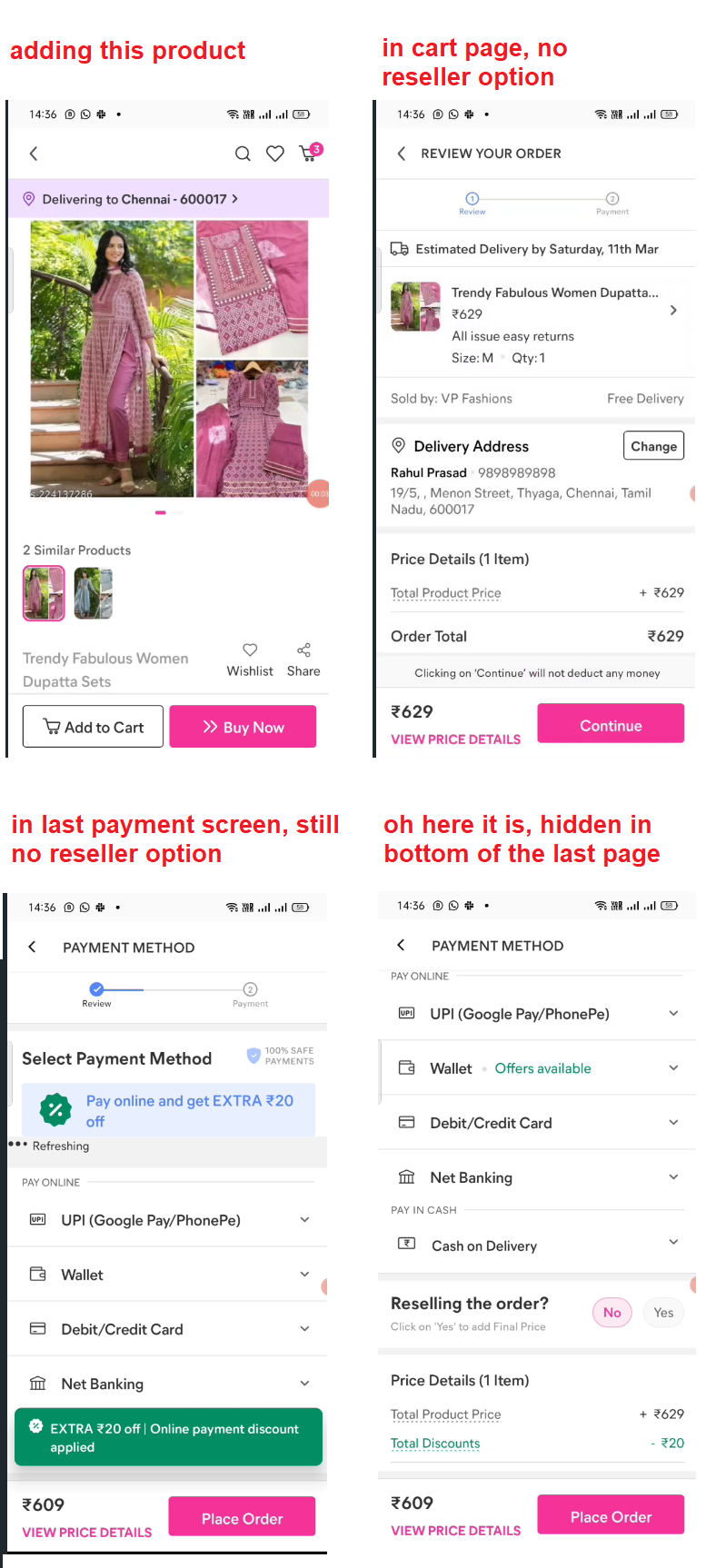 2. Shopsy went a step ahead. I
n their recent mail, they asked their resellers to use the Shopsy Branded Courier Covers. Seriously Shopsy? that stupids are we? :(
Seriously? If you want resellers to use Shopsy's branded packages, why is he called as reseller anymore?
Check the screenshot below:

This blog is NOT about who's Protagonist or who's Antagonist, although, I'd leave that to you :)
The real concern is that when such companies create hope for millions of sellers only to disappoint them, resellers would lose their entire trust in the industry itself which would destroy their dream of starting their own business, isn't?
That is what we are worried about. As a reseller or dropshipping seller, you should be aware of whom are you dealing with. You need dropshipping partners for long term till you get success and you pass it to your next generations. There are lot of dropshipping sellers in USA where they transferred their business to their next in line sons and daughters. Few of our dropshipping sellers have done that too.
Takeaway:

See Dropshipping business as a longterm one, because it is a real business deal and if you do it with right partners, your entire family and next generations can be benefitted and you'd not needed to do any other work at all.




So take it seriously, do not be scared to ditch deceiving players and freebies.




Partner with trusted dropshipping marketplaces or vendors like Baapstore as we are in the market for almost a decade with 1500+ successful dropshipping sellers



Related Articles

Guide to Dropship & Dropship Products in India

To explain what dropshipping is one can say that it is a model of business that allows an entrepreneur to have an online business where they can sell products to buyers, without buying the inventory upfront. USP is that this model is about selling ...

How Much Dropshipping Sellers Earn In India?

Dropshipping in India has emerged as a popular and lucrative business model. It's no secret that e-commerce is booming in the country, and dropshipping presents an excellent opportunity for aspiring entrepreneurs to capitalize on this growth. If ...

How to Leverage ChatGPT to Boost Your Dropshipping Business in India

Dropshipping has become an increasingly popular business model in India, allowing entrepreneurs to sell products without the need to maintain inventory. By partnering with dropshipping suppliers, like Baapstore, retailers can focus on marketing and ...

Dropshipping Process: How To Build Your Own eCommerce Empire From Home

Dropship India Supplier Process eCommerce is a growing industry today. Dropshipping is one of the emerging eCommerce businesses which helps one to start their own business from scratch. What Is DropShipping for an eCommerce Business? You can start ...

Why should you Dropship Indian Products with Baapstore?

If you have ever tried your hands on dropshipping, you must be knowing that Chinese products have been the go-to solution for dropshipping services across the world. While that looks like a popular method, it comes with its own set of challenges ...